If you have not already guessed, I breastfeed. When I breastfed my son, I knew that I was doing what was best for him, but let's face it... I was new at it! Minus the one time I had mastitis, when my son was probably 6 months old, I never had any problems. Breastfeeding never hurt, I always had enough milk (if only I had trusted that), and I loved the bond. I had a great breastfeeding experience with my son!
When I got pregnant again (2 weeks after my son weaned himself) I knew that I would breastfeed. This time I was able to go into the first few weeks of her life armed with something that ended up being a HUGE blessing. I was armed with knowledge. I was armed with the knowledge that I COULD DO IT! I could breastfeed successfully! I went into my daughter's life with a goal. Not just to breastfeed or to breastfeed for at least a year (like my goal with my son), but to exclusively breastfeed for 6 months.
My daughter was born at 36 weeks and 4 days. She was a healthy 6 pounds and 14 ounces. She was happy and healthy. Or so we thought. Our daughter was born shortly after 2 am and by 10 am her doctor had taken her to the NICU because she was blue. 2 LONG days later, we got to take our sweet baby girl home. The hospital assured us that she was on the mend. Wrong. Less than 24 hours after going home, we were at the Children's hospital (can I just say how thankful I am that we had a local children's hospital)! I will spare you the details of her hospital stay, but it was the LONGEST week of my life. My poor baby was sick. At 5 days old she was diagnosed with
VUR
and by the time we left the hospital at 8 days old we knew that she had Group Strep B in her urine (and therefore her kidneys). We left the hospital with a lot of answers and a lot of questions. However, I knew one thing. I would breastfeed her till she was 6 months old. She would be given the best antibiotics that I could give her. I would help her build her immune system up the best that I, as a mother, could... with breast milk. Breastfeeding PJ was not easy to start with. While she was in the hospital I got horrible mastitis, I was exhausted from having just given birth and was now sleeping on a hospital pull out chair/bed. I was physically exhausted, but I was more emotionally exhausted. I had a hubby who had to work, a 2 year old at home to worry about, my baby in the hospital, and I was just plain tired.
Now, 8 months later. I exclusively breastfeed PJ for 6+ months (minus the 2 ounces of formula that the NICU said she needed... agh). PJ has not had one single problem with her VUR. We stopped giving her the prophylactic antibiotics (low dose antibiotics to attempt to prevent infection) several months ago. PJ has not had any UTIs or kidney infections. I know this is because she has been given the best, breast milk.
I stand firm that breastfeeding is normal, natural, and beautiful. Breastfeeding is best for my babies, your babies, and every baby!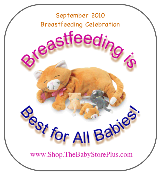 I wrote this blog while participating in The Baby Store Plus Blog Breastfeeding Celebration!